Mitsubishi Pajero Mods: Boost your Pajero's performance and style with these 4 smart, proven upgrades. Take it to the next level!
In this article
I carried out a pre-purchase inspection on this Mitsubishi Pajero at a local car dealer and found some Pajero upgrades to share. Here you can get some ideas on modifying your Pajero or Pajero Sport. I liked the colour-coded bullbar with the side steps but was mighty impressed with the offroad modifications.
The after-market accessories I thought were missing were the roof rack and reversing camera. No big deal, as they can be bought from eBay easily. So Whether you're getting ready for the outback trip of a lifetime, tackling the Gibb River Road or want to hit the beach, there are some easy and inexpensive mods you can do with parts and accessories readily available to do the job.
Mitsubishi Pajero Mods Include:
Pedders Air Assist – adjustable air suspension
Nolathane Bushes – rear trailing arms and differential bushes
Long Range Fuel Tank – modification plate attached
Dual Wheel Carrier – twin rear spare wheels mounted on the rear
Pedders Air Assist
Adjustable air suspension has many benefits like improving load-carrying performance when towing. Who doesn't want a little more height and stability after loading up to go travelling? Also, adding additional weight with upgrades like a long-range tank and dual-wheel carrier makes this suspension upgrade essential.
Nolathane Bushes
Rear diff bush replacement is necessary on a Mitsubishi Pajero. The differential bushes start to split and crack due to having rear independent suspension and high gross weight. But to be fair, that's their job – wear out. It's also one of the common Mitsubishi Pajero issues found and Ford Territory issues. If the Pajero you own or looking to buy is for its intended purpose, you will see some premature wear. The good news is you should be able to find many workshops willing to give you a quote and also plenty of after-market replacement bushes like Nolathane or SuperPro.
Pajero Modified with LM1 Modification Plate Attached
The LM1 modification plate is for fuel tank installation. A common modification and upgrade to any 4×4 is a long-range fuel tank. Here is a list of other vehicle modification codes.
Dual Wheel Carrier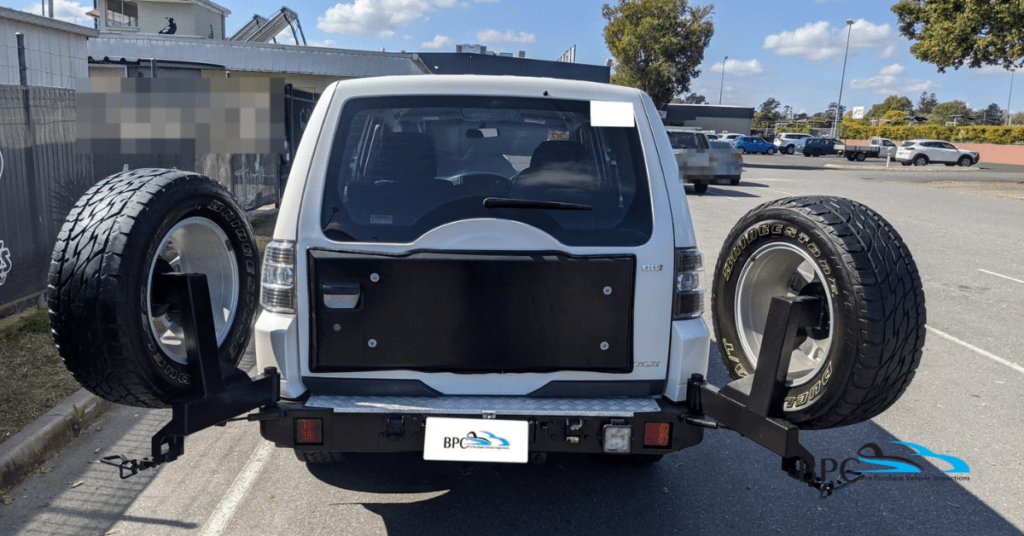 Dual Wheel Carriers can provide you with the ultimate rear-end protection, improve off-road abilities, and give you the security of always having a spare tire. They are known to offer an unmatched level of off-road stability, come equipped with durable steel construction, and make for an excellent choice on almost any type of terrain.